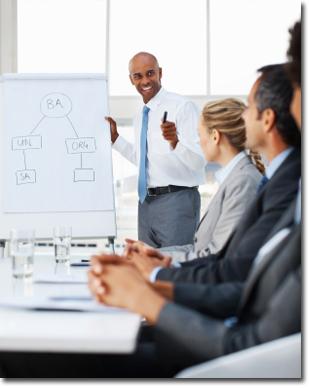 "If it were not for the coaching I received, my business would not have survived." - Rich T.
All participants are given the following guarantee:
If you don't learn one action step that will influence or change your behavior in our workshop, we will give you two hours of individual coaching for free.
Entrepreneurs Program
Your journey to becoming a successful entrepreneur is rife with challenges. Two-thirds of all small business start-ups never turn a profit or fail within the first two years. Do you have the right mind and skill sets to be amongst the successful one-third? You'll need many tools, including:
A realistic business plan which acts as a crucial roadmap,
Adequate financing and marketing strategies,
To set long term strategies and goals, instead of managing the day-to-day.
The Entrepreneurs Program will transform the way that you think, feel, and act as an entrepreneur.
A review of key traits and behaviors exhibited by successful entrepreneurs will begin the workshop. Each individual will assess their own skill sets and traits to see where their strengths and weaknesses as an entrepreneur reside. One of the most crucial items you'll walk finish the workshop with is your very own business plan which is essential to success and survival in the business world. Not sure where to start? Our program walks you through every detail of business ownership and delineates action steps such as choosing a location, defining your market, hiring and training, choosing vendors, branding, marketing, technology and customer service. This program will fully prepare you in establishing a business made to last.
At the end of your experiential workshop you will have the expertise to:
Traits of Successful Entrepreneurs
Implement your business plan
Define your market
Obtain capital
Hire and Train
Evaluate and negotiate with vendors
Utilize a network of support
Ambitious Entrepreneurs: Get started!
Start your Best Life now! Workshops and individual coaching sessions are forming. Click here to register.
CLICK HERE to learn a new
strategy immediately from our monthly e-newsletter.