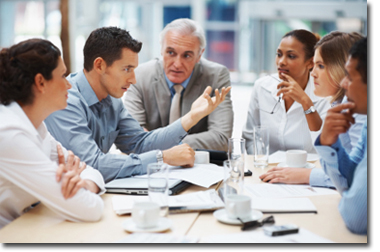 "I have learned to deal with people differently and to achieve improved performance and a more cohesive team." – Joe T.
All participants are given the following guarantee:
If you don't learn one action step that will influence or change your behavior in our workshop, we will give you two hours of individual coaching for free.
Team Building
Businesses are built or destroyed based on the internal workings of an organization's teams. Are your teams highly effective, productive and profit-centered for your company or are they destructive and difficult to manage?
The team is an essential and unavoidable concept to all businesses. Even the one person professional practice has to team with someone to get the practice started and thriving. You need to know exactly how to structure and manage a team so that your business can thrive.
Our Team Building workshop provides participants with essential skills to develop an effective team and provides solutions for overcoming dysfunction in your teams. We utilize action oriented workshops so that you feel confident with your newly acquired skills to transform your team dynamics back in your own office.
The LWS strategic coaching method will develop your skills and you will be able to:
Build highly effective teams
Use the key components for selecting and building teams
Build cohesion and positive group identity
Overcome dysfunctional teams
Use performance coaching techniques to achieve team goals
Use workflow and execution methods maximize team performance
Become an effective team leader! Get started!
Start your Best Life now! Workshops and individual coaching sessions are forming. Click here to register.
CLICK HERE to learn a new
strategy immediately from our monthly e-newsletter.